Fashion

Fashion Technology

For Indian Ladies

Latest fashion products

Trendy Apparels

Casual wears

Ladies Designer Tops

Saree Blouses

Sarees ( Saris )

Latest Sari Trends
Saris (Sarees) Shops in South India

The Chennai Silks

Kalyan Silks

Seematti Silks

Jayalakshmi Silks

Tips for Buying Silk saris

Fashion Accessories

Home Furnishings
Miss World

Miss World title holders

India's Miss World 1966, 1994, 1997, 1999, 2000

Body measurements
Latest fashion products
... It reflects your personality ...
We are not Fashion designers, not fashion goods manufactures, not fashion goods traders, not fashion goods shop owners but we are fashion seekers like you and many others. We believe that the personal appearance can do a lot of differences in everybody's life in different occasions. The selection of dresses and fashion accessories has a vital part of personal appearance especially in the case of ladies. Proper dress can enhance or diminish certain body features favorably.
We have a team of young ladies associate with us who are from different walks of Life and they are Fashion lovers. They have identified and classified the latest / current fashion trends of products in Apparels & Accessories for ladies and kids.

We invite Fashion designers, Fashion goods manufactures, Fashion goods traders, and Fashion goods shop owners or any individual to send the photographs of their best and latest fashion products for each categories with details to us, through e - mail tekwebvisuals@rediffmail.com.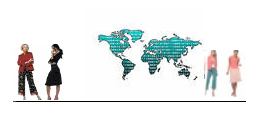 We will publish it in appropriate places to get an awareness of the
latest fashion trends
to our viewers. We feel it is very important as the Fashion is ever changing.
This product propagation is totally FREE for a period of 6 months.